Communication Platforms
Schick Communications brings to our customers the latest technology in communication platforms, powered by NEC.
To stay competitive in today's fast-paced business environment, employees and customers have to be able to interact rapidly and with as few barriers as possible. Supporting an ever-increasing mobile and collaborative work environment is contingent on a powerful communications platform capable of providing and maintaining the tools and advanced functionality needed for anywhere, anytime responsiveness
NEC offers both VoIP Hybrid and Cloud Based communication platforms that helps everyone throughout an organization communicate seamlessly both with customers and with one another. The results are greater efficiency and increased productivity.
.
Unified Communications/ UC Suite
NEC's UC Suite delivers an integrated unified communications (UC) solution that enhances organization's ability to collaborate. Specifically developed for small to medium sized businesses, it is a scalable, feature-rich solution that simplifies communications management and enables complete mobility.
Users gain access to a wide range of advanced UC applications such as presence, desktop client, softphone, quick messaging, instant messaging, white boarding and application sharing.
The end result is simpler cooperation and support internally as well as with external contacts.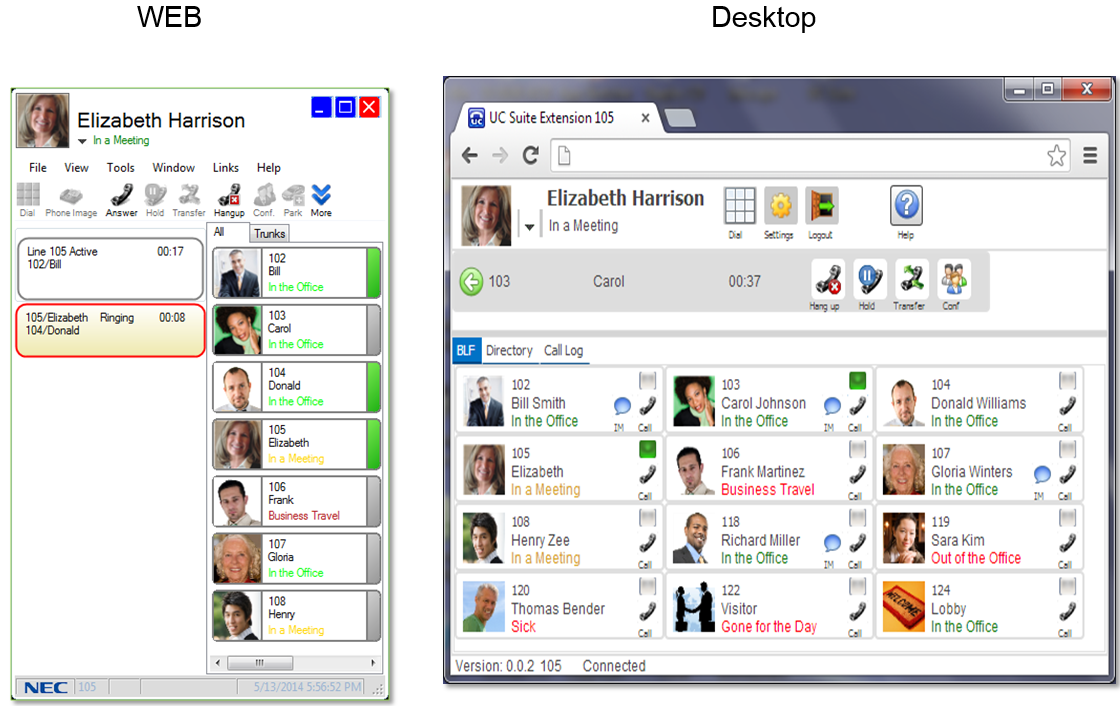 UC Suite offers:
Call management, speed dialing and contact lookup
Presence to view colleague's real-time status and availability
Visual voicemail for quick access to and easy management of inbox and messages
Instant messaging capabilities for quick, real-time conversations
Attendant console capabilities directly on an operator's PC, allowing them to transfer and manage calls on-screen
Detailed call history reports—includes incoming calls, outgoing calls, call date and time, call duration and caller ID information
Ability to search, sort, print, archive, email and export call logs plus add notes to call log entries
Access Anywhere, Anytime, On Any Device
With NEC's Multiline Client(MLC) mobile app solution, staying connected and productive is solved.
MLC Mobile App re-invents the office telephone by moving the traditional desktop phone onto your iPhone/iPad/Android Phones/Android Tablets, transforming it into one innovative, feature packed business device.
Multiline Client Mobile offers: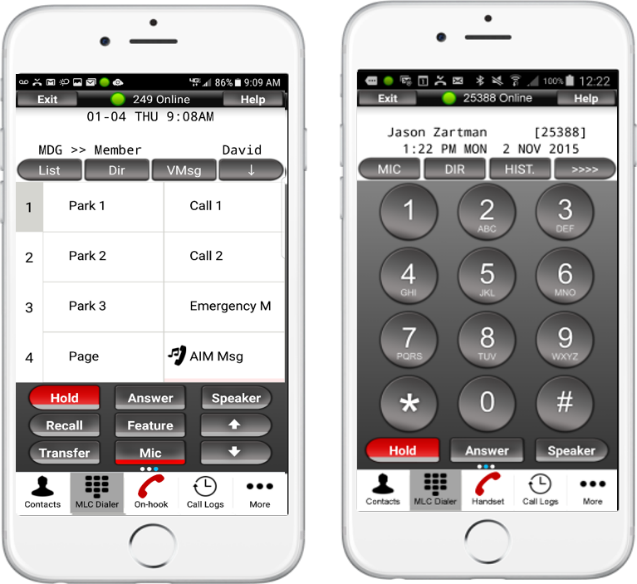 A single number reach with simultaneous ringing of devices and access to voicemail.
Anywhere, anytime access to NEC's desktop telephone functionality.
Calls initiated and smoothly continue via Wi-Fi or VPN connection.
Unified Messaging and voicemail with message waiting indicator light
Syncs and access to mobile device and Microsoft® Outlook® contacts
Bluetooth® and wired headset support
Enables easy transfer of calls to and from mobile device and desktop telephone.
UC Suite Video Conferencing
Sharing information and ideas with colleagues, customers and business partners needs to be easy. With UC suite video web conferencing,you ca create and hold video meetings in a web browser, share documents, presentations, and applications in real time or train your staff.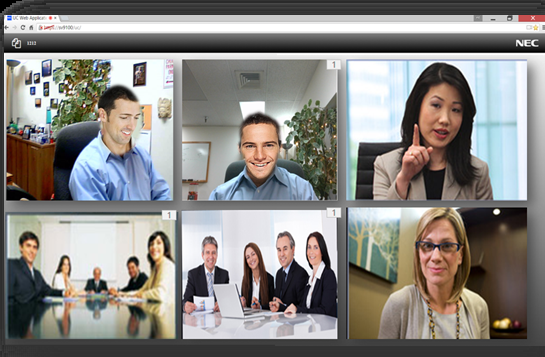 Up to 8 people in a video conference.
Up to 4 simultaneous Video conferences.
Easy email invite to conference.
Screen sharing.
Real time application sharing.
Built in to UC suite.